I received a partial skein of sock-weight two-ply self-striping yarn in blue-green-white in a box of yarn given to me by a friend. And I had no idea what to make with it.
After searching for several years for the perfect pattern to go with this yarn, I found it in the
Hitchhiker
shawlette designed by
Martina Behm
(on Ravelry at
Maltina
).
The 8-row repeat is easy to master to produce a delicious-feeling, ready-to-wear neck wrap, which you can make as short or long as you like.
Sock yarn Hitchhiker project after 15 points completed.
The scarf above ended up at 18.5 points long when the yarn ball ran out, but it's just long enough to wear around one's neck to chase away a chill. I plan to add a small button and loop to fasten it closed and donate it to my local cancer center as a small yarn hug for a patient.
But if your goal is to make a full-size, 42-point Hitchhiker scarf, progress feels like it slows down exponentially after one reaches about the 25th point because by then there are more than 100 stitches on the needle (and still growing).
For an impatient knitter like me, that makes achieving the "full" 42-point version of Hitchhiker rather difficult toward the end. However, if you are able to persevere, the rewards of the finished shawlette are definitely worth it.
Full-size Hitchhiker project after 23 points completed.
A recent
yarn blog post
by humorist Franklin Habit says: "When a non-knitter asks a question about my knitting, that question is most often, 'How long will it take you to finish that?' or the common variation, 'How long would it take you to make me a (type of knitted thing)?'
"So I explain that a hat may require several evenings, particularly if worked in a complicated technique or a fine yarn. I tell them the average number of stitches in a pair of socks (eight million) or a plain sweater (seven hundred trillion) and that completion of the latter may take months.
"The gasps of astonishment are strong enough to suck the stitch markers right out of a raglan."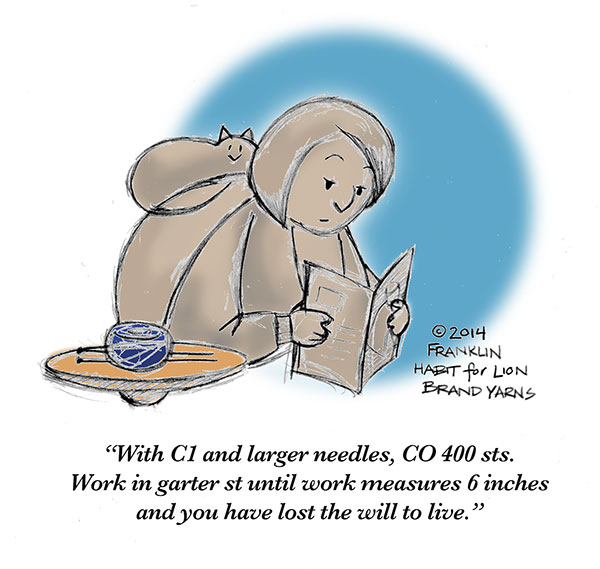 After I stopped laughing (because I can especially relate to the "seven hundred trillion" feeling), I started wondering just how many stitches are there in a full-size, 42-point Hitchhiker scarf.
The pattern's array of increases and decreases are standardized, so I figured with the
help of a spreadsheet
, I could calculate the exact number of stitches in each row of the pattern and then add them all up.
My result? 29,579 stitches!!! (And at a minimum average of 3 seconds per stitch, that works out to at least 25 hours to complete.) So, yeah, knitting (particularly for me) takes some determination.